Dr. Tam Tu, Pharm.D.


Director of Operations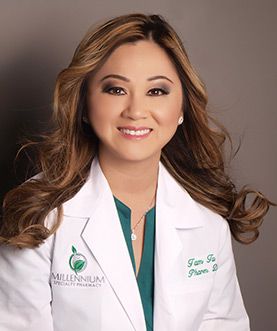 Millennium Specialty Pharmacy owner and Orlando native, Dr. Tam Tu, strives to provide outstanding service in helping patients meet their individualized needs. Dr. Tu received her Bachelor's degree in Chemistry from the University of Central Florida in 1998 and a Doctor of Pharmacy degree from Florida A&M University College of Pharmacy in 2002. Her goal at Millennium Specialty Pharmacy is to help patients reach their ultimate healthcare goals through private consultations, educational seminars and partnering with healthcare providers to monitor patients' progress. Dr. Tu believes that Millennium is a lifestyle pharmacy that provides patients with exceptional healthcare needs along with pharmaceutical-grade vitamins for better lifestyle.
Dr. Tu specializes in bio-identical hormones, veterinary medicine, and pediatric compounding. Dr. Tu is a practicing member of the National Community Pharmacists Association, the International Academy of Compounding Pharmacists, and Professional Compounding Centers of America.
In her spare time, Dr. Tu enjoys camping and practicing Taekwondo with her husband and two children, in which she is working towards earning her 3rd degree black belt.
---
Dr. Tina Nguyen Pharm.D.


Compounding Specialist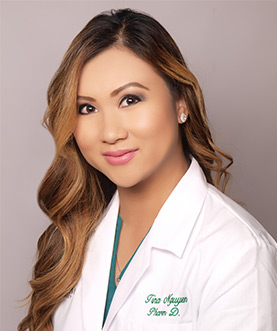 Dr. Tina Nguyen earned a Doctor of Pharmacy degree from Nova Southeastern University in 2006. Upon graduating she began her professional career as a pharmacist for Publix Pharmacy. After several years of practicing in a retail setting both as a staff pharmacist and a pharmacy manager, she went on to open her own independent pharmacy. Tina became fascinated by pharmaceutical compounding through a continuing education course she attended. She realized that commercially available medications are not one-size-fits-all and that there was a need for customized medications. She became associated with the Professional Compounding Centers of America and decided to focus her career on compounding pharmacy. Tina primarily specializes in "Bio-Identical" hormone replacement, dermatology, and cosmetic surgery, but also deals with many other areas including pain management, pediatrics, and veterinary. Dr. Nguyen offers private hormone consultations and provides continuous physician education on compound drug options for their patients. She is dedicated to providing a level of care and service to her patients that is unmatched in the Orlando area.
---
Dr. Jenny Nguyen, Pharm.D.


Director of Marketing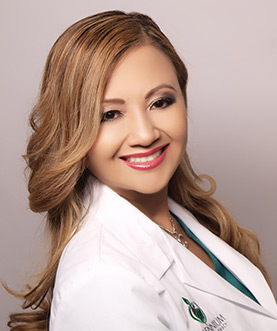 Dr. Jenny Nguyen's goal is to promote preventive healthcare and wellness. She received her Doctorate Degree in Pharmacy in 1995 from Mercer University College of Pharmacy. Since graduation, she worked for Walgreens Healthcare for over 18 years as Pharmacy Manager and for the past 4 years with Oakridge Compounding Pharmacy, specializing in compounding. Dr. Nguyen is a certified compounding pharmacist and a member of the Professional Compounding Centers of America, one of the most prestigious compounding associations in the industry. As a local healthcare professional serving Central Florida over the last 22 years, Dr. Nguyen brings to Millennium Specialty Pharmacy a wealth of knowledge and experience. Healthcare providers and patients enjoy working with Dr. Nguyen, because of her compassion, patience, and resourcefulness in finding solutions to their needs. Dr. Nguyen innate ability to provide accurate recommendations will be an invaluable asset to Millennium Specialty Pharmacy.